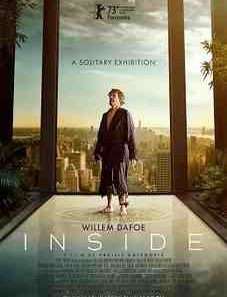 Title:
Inside 2023
Genres:
2023 Movies | Drama, Thriller
Quality:
HD
Directors:
Vasilis Katsoupis
Writer:
Ben Hopkins, Vasilis Katsoupis
Stars:
Willem Dafoe, Gene Bervoets, Eliza Stuyck
How to watch movie Inside 2023 online?
In the movie, Nemo is an art thief who receives help from some unknown acquaintances to enter a large, ultra-modern high-rise apartment. Nemo effortlessly moves through the apartment, gathering most of the things he meant to gather, before making his way to the front door to leave. But Nemo is stranded without a way to contact his friends or flee due to a security system breakdown. The fact that there isn't much food, the water and gas have been turned off, and the temperature can vary from dangerously hot to distressingly cold, all contribute to the worsening of the condition. Nemo must use all of his skills to survive in his startlingly adverse conditions even as his mind begins to crumble. Enjoy streaming of HD movies and TV shows with
Afdah.info
.
Afdah 2023, Drama Movies, Thriller Movies